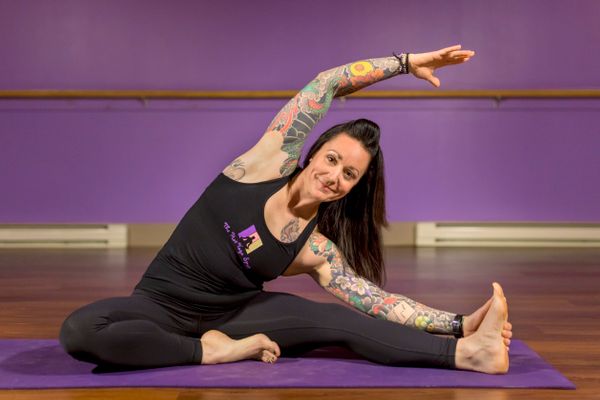 Jess P
Jessica is a Tier 3/ 1,200 hour Baptiste Certified Instructor, and graduate of the year long Fit to Lead program with the Baptiste Institute. She has completed Levels 1, 2, and 3 with Baron Baptiste and Paige Elenson in addition to The Art of Assisting, Advanced Art of Assisting, and Being of Power Workshops. Jessica is a facilitator for the 40 Days to Personal Revolution program, and has joined the Baptiste Apprentice Team. For her foundational training, she completed the first 200 hour Hot Warrior Yoga certification at The Hot Yoga Spot with it's creator, Jennilee Toner. She is also earning an additional 300hr certification at The Hot Yoga Spot through Styles Yoga.
Jessica discovered hot yoga at The Hot Yoga Spot in the summer of 2012 when she began her lifelong journey of health and fitness. What started out as an activity to do on a rest day soon became a passion to learn more and practice more often. She believes that there is a yoga practice for everyone, no matter your age, size, or physical limitations. Yoga can be a strong physical practice, but is meant to calm the mind and body so that we may be open to positive change and outlook. You can expect a very powerful practice with postures to challenge both the mind and body, woven together with clear alignment cues and a call to reflect on oneself.
Outside of the yoga studio, Jessica is very active in CrossFit as a way to build both mental and physical fortitude. She is also a committed runner and enjoys teaming up for Ultra Ragnar races and training overall cardio endurance. She has found a new appreciation for yoga as a means of active recovery and enjoys the benefit of breath control, flexibility, and stamina that are required for such intense workouts.
Jessica co-created the Compass Mentorship program available at The Hot Yoga Spot, which is designed for anyone looking for growth and development. She is a co-leader and founder of 518 Fit CommUnity, a free workout group that takes place each week with the objective of creating deep community, connection, and access to fitness regardless of finances or physical experience.
In March 2018, Jessica was recognized by lululemon for her efforts in community building, service, and leadership and invited to join their team of ambassadors. Jessica is also the lead instructor for Albany's YogaPalooza, the fun and free yoga celebration that brings hundreds of people together to practice yoga on Pearl St. each September.
Jessica's Schedule: