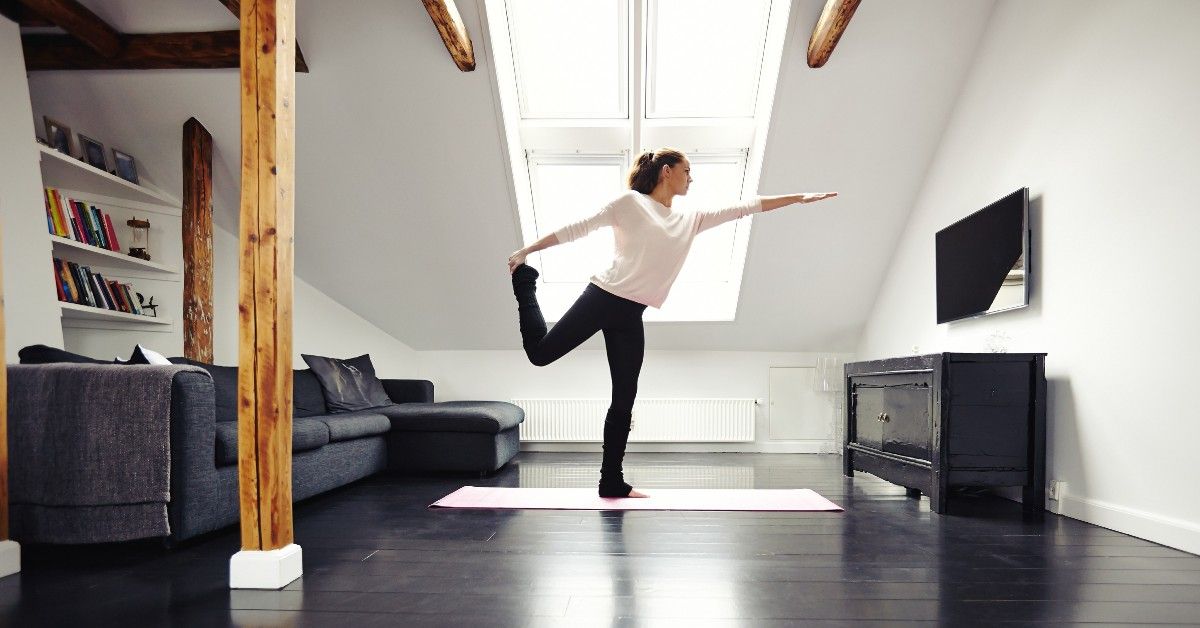 How to Maintain a Yoga Practice at Home
Taking care of yourself is always important, but with the world having to completely change the way it operates with the outbreak of COVID-19, it is crucial that we take the time out of our days to take care of ourselves and listen to our bodies and minds.
For many of us, this abrupt pandemic also caused us to lose the place where we would go to treat our bodies and minds with love and respect — the yoga studio. One day we were doing Tadasanas and the next we were stuck at home looking at our mats wondering how we move forward with our usual yoga routines. This has made many feel uncertain, lost, and unmotivated, and has caused many practices to come to a halt.
This is why we wanted to focus today's post on providing guidance and tips for jumping back into your yoga practice and maintaining it until your yoga studio reopens its doors to you and your fellow yogis to flow together once again. If you have any other questions about cultivating your home yoga practice, please don't hesitate to contact our yoga studio, The Hot Yoga Spot in Albany and across the Capitol Region, today.
Tip #1: Find motivation by subscribing to an online yoga studio.
Many yoga studios are now offering virtual classes where you can tune in via Zoom with certified instructors who teach a wide range of classes. Not only is there a wide variety of classes to choose from, but it is also extremely accessible in the comfort of your home. Plus, these classes are often more affordable than in-studio classes! At The Hot Yoga Spot, we offer both Yoga on Demand and Zoom classes. We also have created special community events to help our community stay connected, and private sessions to help you reach your goals.
Tip #2: Find a spot in your home that you dedicate to your practice.
Having a spot that you dedicate to your yoga practice helps with staying focused and disciplined. Try finding a place in your office, basement, or open space where you can roll out a mat and create your own sacred space. Moving into this space will act as a reminder that it is time to practice, similar to the feeling of when you walk into a quiet yoga studio. And don't worry about finding the perfect space or just one spot to do your practice — just having your yoga mat laid out somewhere that you frequently come by will help remind you to take a nice yoga break.
Tip #3: Start out small.
With a home yoga practice, you also have the flexibility of choosing when and how long you will practice for. Try to keep in mind that although you may have practiced for 60–90 minutes while attending a yoga studio, it doesn't mean that every practice needs to be that long. Try starting small and then build onto your practice time as it feels good and natural to do so. Even if you are able to practice for 15 minutes per day or any time you have a moment to stop what you are doing and get yourself on your mat, you are doing much more for yourself than you probably realize! Be open to the idea of incorporating yoga and meditation throughout your day, even if they are in small time increments.
If you have fallen off of the wagon, don't beat yourself up! Whether you have missed several days, weeks, months, or even years of practicing, just do your best to dust yourself off and get back on your mat. A simple 5-minute practice three to five times a week is an excellent way to get back on track.
Tip #4: Schedule time to practice.
Many of us already live by a schedule or a to-do list, or are working on creating a routine while many of us are working from home. Put it in your calendar, write it in your planner, or set a reminder in your phone to schedule yoga time into your schedule. There is no reason whatsoever to feel guilty about taking some quality "me" time to relax, unwind, and take care of yourself. You are worth 10 minutes — so take it!
Yoga and meditation are practices of self-care and self-love, and dedicating time for these practices can help to change your outlook on life. This is important now more than ever with the current circumstances of our world. Taking this time will leave you calmer, less stressed, more focused, and even more productive.
Tip #5: Focus on maintenance over advancement.
While we all love to make progress in our yoga practices, it shouldn't be your only goal. When you are at home, focus on establishing a quality, full-spectrum practice so that you can maintain your strength and flexibility. This will not only make you feel good, but you will also feel much better when you return to the yoga studio! A good, balanced sequence could look something like:
Cat-cow

Downward dog

Locust

Lunge

Side angle

Triangle

Wide-angle

Forward fold

Tree

Pigeon

Bridge

Supine twice

Seated forward fold

Savasana
Start off by practicing these foundational poses while you work from home in order to ensure that your hips, hamstrings, quadriceps, shoulders, and back are open and free of pain. These are the foundation poses to build on and prerequisites for all other more advanced poses you may want to attempt down the road.
Tip #6: Get creative and make it fun!
As you create your own unique practice away from the yoga studio, try out new virtual classes, do research on new poses, find a yoga challenge to keep you motivated and on-track, or any other new and exciting way to practice. For example, you could pick a new pose once a month and dedicate your home practice to mastering the pose or playing with different variations of it. Or, you could get a friend and practice together to help keep each other motivated and accountable. As you experiment with your practice, allow yourself to have fun and be creative — even playful and silly! Rather than being structured and regimented in your idea of what yoga looks like, just enjoy being in your body, striking a pose, and flowing through the motions of whatever feels good for you. Yoga playtime is an excellent way to expand your experience of yoga asana!
Creating your own daily practice does not have to be expensive, time-consuming, or draining. In fact — it should be just the opposite! There are many ways that you can incorporate yoga and meditation into your daily routine. Best of all, taking this time out of your day to take care of yourself and do you helps to ensure that you can continue to show up as your best, most authentic self.
From all of us at The Hot Yoga Spot in Albany (and all of our other yoga studios across the Capitol Region), we miss seeing all of your lovely faces! If you have any questions or could use a little more guidance about how to cultivate a yoga routine for yourself at home, please feel free to give us a call. During this time, we are also offering on-demand yoga content which enables you to enjoy our community and teaching team from home, and is filled with great yoga and barre classes, shorter flows, meditations, and more. We also offer live Zoom classes, so be sure to check out our schedule and come flow with us!